Day skipper training
Our training yacht at Lake Constance
SUNSAIL SUNRISE 35, 3 double cabins, length 10.73 m, 59 sqm sail area, roller jib, blister, modern electronics, autopilot, electric anchor winch, warm indoor and outdoor shower, hot water in the galley, electric refrigerator, gas stove with grill and oven, tape and CD player , Diesel heating, sun shade
Skipper training at Lake Constance (3 days)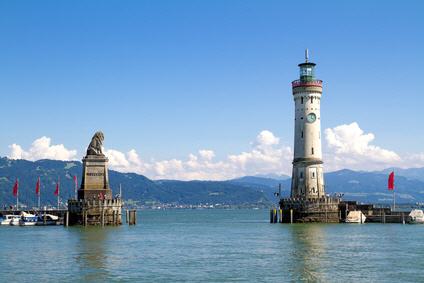 Skipper training at Lake Constance (3 days)
As a future bareboat and flotilla skipper, you will get to know the essential areas of seamanship: knotting, cruise preparation, ship diesel, berthing and taking off under engine, course keeping, types of sails, setting sails, sailing trim, sailing maneuvers such as turning, jibing, tacking, sailing in front of the wind , Reefing, taking in the sails. Mooring alongside and with the stern to the pier, anchoring. For your safety, practice man-overboard-maneuvers, the use of life jackets and life belts. You practice using navigation means such as steering compass, bearing compass, log, depth sounder and nautical literature. Finally, you determine the location of the yacht, calculate courses and interpret weather observations. A small night trip completes the training. Depending on your mood, you can sail up to 8 hours a day and practice your desired maneuvers. Therefore, this Lake Constance Skipper Training is also ideally suited to refresh existing knowledge or to prepare for the practical day skipper exam.
There is enough time for going ashore, visits and delicious Lake Constance specialties such as "Felchen Muellerin", "Kretzerfilet" or "Zwiebelrostbraten" and the excellent wines.
Skipper training at Lake Constance
Location:
Ludwigshafen at lake Constance.
Duration:
Weekend Friday 10 a.m. – Sunday 5 p.m.
Getting there:
Travel by car or train.
Yacht
SUNSAIL SUNRISE 35, 3 double cabins, length 10.73 m, 59 sqm sail area, autopilot, electric anchor winch, warm indoor and outdoor shower, hot water in the galley, electric refrigerator, gas stove with oven, sun shade, heating.
Training goals:
Skipper training for prospective bareboat and flotilla skippers, refreshment of existing sailing and day skipper knowledge as well as preparation for a day skipper practical test
Training content:
Seamanship:
Trip preparation, Lake Constance weather information, knot knowledge. Taking off and berthing on under engine, types of sails, setting sails, trim, reefing, taking in the sails . Sailing maneuvers such as tacking, jibing, heaving, running in front of the wind, steering the course. Getting to know naval devices, handling gas, small engine knowledge. Mooring alongside and with the stern to the pier. Anchoring.

Safety:
Life jacket and life belt. Man overboard maneuvers.

Navigation:
Compass, bearing compass, log, depth sounder. Introduction to navigation: nautical literature, position fixing, course calculation, navigation at night. Log.
Overnight stay:
In a bunk on the yacht. Please bring a sleeping bag or blanket
Your required equipment:
You can find your personal equipment in our packing list..
Price:
350 EUR per person for 3 days, 1400 EUR for the whole yacht (total 4 per.) for 3 days.
Booking;
Book online: bodensee.saltyacht.de
Cahncellation policy:
If you have booked our "Flex-Option", you will be refunded 100%.
Trip documents:
14 days before start.
Number of participants:
Minimum 4, maximum 6.
Organizer:
S.A.L.T. YACHT GmbH, Saarbruecken.