Rental service
Sailing pleasure on the Bostalsee!
The area
The Bostalsee is the largest recreational water in southwestern Germany and is idyllically embedded in the low mountain range of the Saar-Hunsrück Nature Park. The 120-hectare Bostalsee offers ideal conditions for sail boarding
Our sailing dinghies
1. Flying Cruiser in different versions is built by BWC on Lake Constance and has space for up to max. 4 or 6 people. Technical data: hull length 5.12 meters, mast height 6.5 meters. Draft between up to 1.20 meters, mainsail 7.35 sqm, jib 6.65 sqm.
2. FAM is Germany's best-selling dinghy cruiser and offers enough space for up to four people. Technical data: hull length 5.40 meters, mast height approx. 8 meters. Draft between up to 1.40 meters, mainsail 10.70 square meters, jib 4.50 square meters.

Note: The boats are awarded while stocks last.
How to rent a sailing dinghy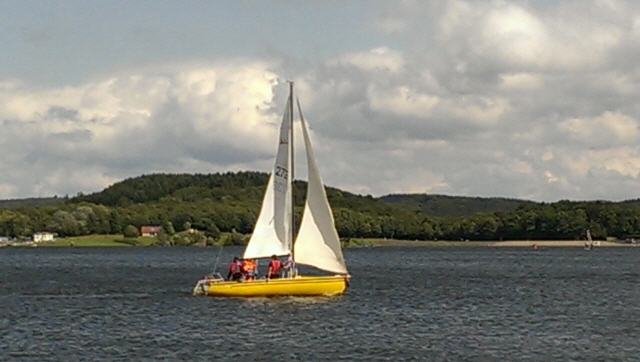 The meeting point for the handover of the sailing dinghy is 9:45 a.m., 1:45 p.m. or 4:45 p.m. at our sailing school, Bostalsee Leisure Center, Am Seehafen 3, 66625 Bosen. You will be given the sails and life jackets there. Please bring your identity card or passport as well as your sailing license and 100 EUR deposit in cash. Then it goes to the boat handover and briefing. Bring sunscreen and appropriate clothing, depending on the weather.
Private sailing instructor on request
An experienced sailing instructor will accompany you to refresh your sailing practice, as a trial sailing or just for fun. Price for 3 hours 90 €.
Standard rental terms
Rental times:
10 a.m. to 1 p.m.
10 a.m. to 5 p.m.
2 p.m. to 5 p.m.
5 p.m. to 8 p.m.
Check-in times:
9.45 a.m and 1.45 p.m. and 4.45 p.m.
Meeting point:
SALT Sailing school, Am Seehafen 3, 66625 Bosen
Accepted driving licenses:
Basic sailing certificate, pleasure boat sailing license for inland waterways, costal sailing licences
Payment options:
By invoice, by transfer, for non-residents also cash
Charter rates:
| | |
| --- | --- |
| 3 hours (minimum rental period): | 45 € |
| 1 day from 10 a.m. to 5 p.m.: | 80 € |
| Deposit in cash: | 100 € |
Extras
| | |
| --- | --- |
| Sailing instructor for 3 hours: | 90 € |
| Earlier handover as standard: | 10 € |
| Earlier return as standard: | 10 € |
| Later handover as standard: | 10 € |
| Later return as standard: | 10 € |